Training in Renewables Energies and Sustainability
100% practical IN-PERSON Classes taught by Professionals in the Renewable Energy sector, Researchers and University Professors
One of the best Master's programs in Energy in Spain according to the annual ranking of El Mundo
The Master ERMA – Master's program in Renewable Energies and Environment from the Polytechnic University of Madrid is an applied engineering program taught in Spanish focus on project and process. For any renewable energy source we estimate the energy resource and select the optimum components and systems, evaluating his technical, economic, legal and environmental viability.
The Master ERMA academic programme is updated annually and consider all forms of renewable energy, energy efficiency and environmental impact assessment methodologies, using the tools, techniques and software from top companies in the renewable energy sector. Scholars from academia come together with professionals and scientifics from top companies and national world classs cientific institutions where our students undertake their internships.
The high-level of technical content, experimental case studies and learning methods of Master ERMA provides students with the knowledge, techniques and tools necessary to develop a successful career in several areas of renewable energy with a multidisciplinary approach.
The content of our Master´s Program is in line with The UN 2030 Agenda for Sustainable Development and can help to achieve the Goal of Affordable and Clean Energy (SDG7) and Climate Acction (SDG13), as well as the rest SDGs in relation with Energy for Sustainable Development.
Mode: In-Person Classes
Language: Spanish
Length: 12 months (October – September)
Timetable: Afternoom (18.30 – 21.30) from Monday to Friday
Credits: 60 ECTS (450h lective)
| | |
| --- | --- |
| Block I. Energy and Sustainability | ECTS |
| Module 1: Energy Markets and Sustainable Development | 4 |
| Module 2: Energy Storage | 3 |
| Block II. Renewables and Energy Efficiency in Buildings | ECTS |
| Module 3: Renewable Thermal Energy: Solar and Geothermal | 5 |
| Module 4: Autonomous Energy Systems and MicroGrids | 4 |
| Module 5: Photovoltaic Self-Consumption | 5 |
| Module 6: Energy Efficiency in buildings and industries | 3 |
| Block III. Renewable Energy Power Plants | ECTS |
| Module 7: Photovoltaic Power Plants | 3 |
| Module 8: Concentrating Solar Power Plants | 3 |
| Module 9: Wind Power Plants | 6 |
| Module 10: Mini-Hydro and Marine Power Plants | 3 |
| Module 11: Biomass Power Plants | 3 |
| Block IV. New energy models for energy transition | ECTS |
| Module 12: Renewable Energy for Transportation | 3 |
| Module 13: SmartGrids | 1 |
| Module 14: Universal Energy Access | 1 |
| Conferences | 1 |
| Master's Final Degree Thesis | 12 |
PROFESSIONAL SOFTWARE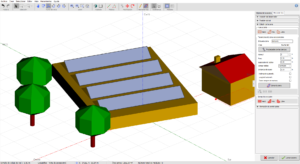 All the Information about Máster ERMA-UPM in yours hads

J. Mario García de María
Subdirector Máster ERMA-UPM
Doctor en Ciencias Físicas
Catedrático Dpto. Física Aplicada ETSIDI-UPM

Antonio Canoyra Trabado
Coordinador Módulo 1
Doctor en Ciencias Químicas
Ingeniero Industrial. Experto en Mercado Eléctrico

Fernando Gutiérrez Martín
Coordinador Módulo 2
Doctor en Ciencias Químicas
Catedrático EU Dpto. Ingeniería Química ETSIDI-UPM

Carmelo Carrero López
Coordinador Módulo 4
Doctor Ingeniero Industrial
Profesor Titular ETSIDI-UPM

Hussein Zeaiter Zeaiter
Coordinador Módulo 7
Doctor en Ciencias Físicas
Máster ERMA-UPM. Director HMH Solar

Carlos Veganzones Nicolás
Coordinador Módulo 9
Doctor Ingeniero Industrial
Profesor Titular Dpto. Ingeniería Eléctrica ETSII-UPM

Teodoro Adrada Guerra
Coordinador Módulo 10
Máster en Ingeniería de Producción
Profesor Titular ETSIDI-UPM

Roberto de Antonio García
Coordinador Módulo 11
Doctor Ingeniero Agrónomo
Director Desarrollo DH ECO ENERGIA S.L.

Luis Miguel Rodríguez Antón
Coordinador Módulo 12
Doctor Ingeniero Industrial
Catedrático EU ETSIDI-UPM

Ricardo Granizo Arrabé
Coordinador Módulo 13
Doctor Ingeniero Industrial
Profesor Titular ETSIDI-UPM

Eduardo Sánchez Jacob
Coordinador Módulo 14
Doctor Ingeniero Industrial
Investigador afiliado al MIT-Energy Initiative y al Universal Energy Access Lab
Do you want to specialize in renewable energy projects?
TESTIMONIALS
"Me pareció muy bueno! Me ha servido mucho para actividades académicas en la universidad estatal de mi país, así como para poder realizar mediciones de recurso solar y eólico, con fines de cuantificación de potencial energético. Lo volvería a cursar."

Jaime Arévalo

Máster ERMA-UPM 2008
"Estoy contenta en lo personal y profesional por haber elegido este Máster, sin duda se me abrieron las puertas. Los profesores han sido un apoyo y lo seguirán siendo, eso han demostrado pese a la distancia."

Andrea Eras

Máster ERMA-UPM 2012
"Excelente Máster, una buena oportunidad de mejorar profesionalmente."

Enrique Javier Suárez

Máster ERMA-UPM 2013
Credits: 60 ECTS (450 lective hours)
Mode: In-Person Education (theory&practice)
Language: Spanish
Length: 12 months (October – September)
Timetable: Afternoon (18.30 – 21.30) from Monday to Friday
Master's final degree project: Mandatory (12 ECTS)
Profesional Software: Personal Software Licences

WAsP, WindPRO, HomerPro, PVsyst, T*SOL, HMH-SPV, etc…

Technical visits to singular renewable energy installations
Entry Requirements: Graduate Degree

Graduate Degree in Architecture, Engineering, Physics, Chemistry or Environmental Sciences.

Requirement: Own a Laptop Computer

mín.: Win7, CPU 1GHz, Mem. 4GB, HD 10Gb, LAN/WIFI, Res. 1280×720, .NET 4.8 framework y Graphics Card with OpenGL 2.0

Tuition Fee: EUR 6.480 (Fees can be payable in three instalments spread throughout the course)
Matriculation Period: 1 July to 30 September
Admission Process
Throught the UPM On-Line application system ATENEA Documents Required: DNI, Passport or Resident Card Academic Degree(s)* A transcript of academic records* Curriculum Vitae Identity Photography Motivational letter Recommendation letter(s) *A certified copy from the consular representative of Spain in the home country or Haya apostille. Note: Contact with Máster ERMA academic secretary.
Due to the small number of places offered, 25 students per academic year, Master's ERMA Academic Committee will assess whether the candidate's profile is appropriate for the programme they are applying for and will therefore decide on whether to admit the candidate or not.
Once the reservation has been confirmed, the Master Secretary will inform the candidate of the instructions needed to matriculate indicating the necessary documentation to be submitted and the deadline for this to be completed.